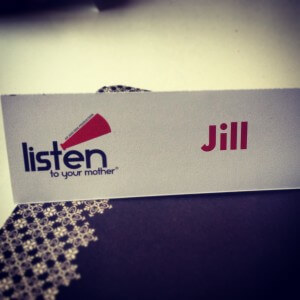 Everything I write today, I erase.
Every time I try to explain how amazing Sunday was, I stumble over all the words.
When I try to explain how I feel about this all? Delete, delete, delete.
I know why. It's because I can't write about the amazingness of Sunday, and our first Listen to Your Mother table-read, without admitting that I feel completely out of my league. I can't write about these STUNNING and wonderful women without telling you that I sat at that table wondering why in the hell I was even part of this group.
And I don't want to type those words at all.
Because typing those words takes away from the fact that this group of women is inspired. Each story…each piece of their soul that they are so beautifully sharing? Perfect pieces of a puzzle that is meant to be shared. The fact that I feel like I've known them my entire life after just meeting them? MIND BLOWING.
You guys, this show is amazing. I can't say it enough…it's AMAZING. And there isn't room for my insecurity. Because it just doesn't belong there. Vulnerability, yes. Insecurity? NOPE. It needs to stay the hell away.
And I'll get there. I will. But right now, I'm going to feel my fears and acknowledge them. And then find a place for them to go.
I'm not going to sit here and pretend like I still don't feel completely out of my league. But I know that I'm supposed to be a part of this.
And that helps.