For the past year, I've admitted to being excited for Beezus to get her license. Not because I don't want to hang out with her anymore, but mostly because if she could even just drive herself to ONE practice a week, that is ONE practice that I don't have to. I mean, it's not like I'm kicking her out of the house at 16.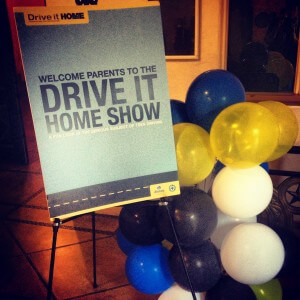 Driving every day, or only once a week, I know how important it is that she's a safe driver. I'd like to think that I'll be/am a decent teacher, but I was pretty excited that I was invited to attend The Allstate Foundation Drive It Home event last week. Drive It Home is an interactive, online program designed by parents for parents as they help to keep their teens safer on the road. (Yes, please.) The online program is so accessible and easy to use. But to help spread the word, the Drive It Home Show is visiting 14 cities across the country.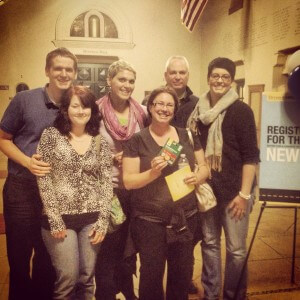 Before last week, if you would've asked me what I thought was the most common cause of accidents in teens, I would've said texting and driving too fast. Apparently lots of parents say that. And while that does happen, basic inexperience is the biggest culprit of teenage car accidents. Our kids still need our guidance even after they turn 16. The National Safety Council recommends that you still drive with your teen for at least 30 minutes a week after they get their license-especially in the first 12 months. In an Allstate Foundation survey of California teens, almost half of them said they wished their parents had spent more time driving with them in demanding situations. These are easy things we can do as parents! Wouldn't we all rather spend 30 extra minutes a week to help keep our kids safe? 46% of California parents say they wished that they had.
As the presentation neared the end, I actually learned my most important lesson in safe driving. And it had nothing to do with my teen driving. Something I hadn't thought much about is teaching my kids about being a safe passenger. And being smart about what car they are getting into. A very brave mother stood up on the stage that night and told the story about her son who lost his life after being a passenger in a car of an inexperienced driver. An inexperienced driver who wanted to push the limits, drive faster, and whose passengers encouraged it. That stuck with me more than any other fact or statistic. Because I want my girls to know that they are responsible. But I also want them to know that they have a choice about getting into a car. I would much rather they call late at night for a ride home then get in a car with a person that makes them uncomfortable.
You would think that I would leave this event feeling more nervous about my daughter getting her license, but I actually feel more prepared. I almost feel like I have a checklist now for how I would like to teach her to drive. And some tips on how to keep her safe. It IS a privilege to drive. And there are things that we can do as parents to prevent teen deaths in car accidents. We're lucky that we have so many resources at our fingertips.
I'm not saying I won't be a nervous wreck once it's time to get behind the wheel with that child…or the first time she leaves the house after getting her license. But at least I'll be an INFORMED nervous wreck.
Though I *will* try to be more like this mother. Maybe.
I was selected for this opportunity as a member of Clever Girls Collective, and the content and opinions expressed here are all my own.