I can't figure out how to fix my mobile site after I broke all the things last month. I am just that good at breaking things. Sadly, breaking things isn't something most of us can put on our resumes. Unless you break shit for a living and, maybe, I should look into a job like that.
So…yeah. I'm trying to fix the things that are broken on this website.
Until then, hopefully you'll still stop by every now and then on your regular old computer. Which is probably the internet equivalent of me sending you a typed letter via owl. But whatever. We can't ALL be super good at all the things, you guys.
Besides breaking things. Of course.
Seventh grade and senior years are going really well so far. These kids of mine seem to have a shitton of homework at all times and I almost feel bad for them. Mostly, I feel bad for me because homework all the time means I need to be a responsible parent and not let them watch tv or hang out with friends all the time. It also means that every so often, The Dude and I get roped into projects and other things that make our brains hurt a lot. Especially when you add that to all the other crap that senior year brings. College nights and applications and a bunch of little things that make us feel like we're doing most things way too late or totally wrong and, sometimes, a little bit right.
I know this is ridiculous, but I'm legit proud of how well I've been holding up the first month or so of senior year. I'm not saying I should win any awards for stalwart mothering, but I haven't completely lost it. Not even once. Not even when these arrived in the mail.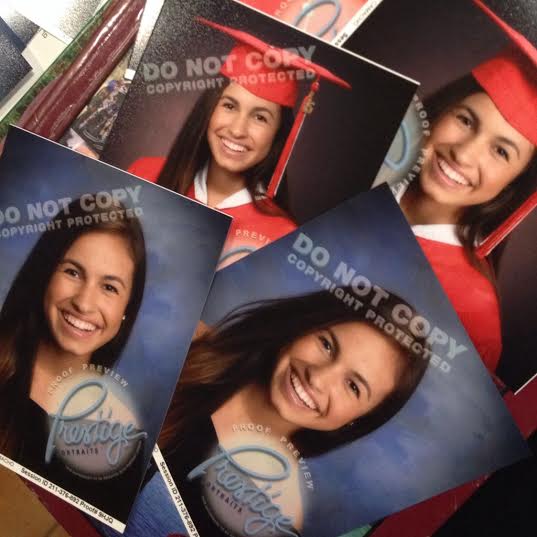 The Dude has had a couple of moments that nearly broke my pretend stoic behavior. Like when I texted him pictures during her yearbook/senior portrait session and his response nearly knocked the wind out of me. He's not usually the one who is blasted by this kind of thing. I took a turn acting like I was completely fine with all of it.
I try not to do it very often, but there are times when I can't help but wonder what this time next year will look like. It's weird to think about only one of our kids living at home. I know we'll be fine, but do you get used to that? Is it weird to let the dog have her room once she leaves?
Don't answer that.
I'm not going to let the dog have her room. Probably.
Deadlines for early applications are right around the corner. There is so (SO!) much to do and get ready for, I feel like I'm going to blink and it will be Christmas and we'll know (for better or for worse) if she got accepted or if we pick up and start applying to her plan B and C and D schools. More than anything, it's just really weird that this is our life right now. Awesome, but weird.
* * *
I wrote all of that earlier thinking that I would get it all finished and set to post this evening. About an hour ago, I got a text message from that senior in high school from her friend's house as they build their last homecoming float. She mentioned how much fun she was having but how it was a little sad that this was their last homecoming together. And yeah…I cried all the way home from the grocery store, so all those things that I wrote about me being okay is sort of a lie. Well, it's less true than it was before an hour ago anyway.
But I'm going to be fine. Really. I'll keep saying that until we all believe it.