I keep forgetting to tell you about all this free time I (apparently) should be getting. Or at least that's the opinion of someone I know. So I wrote about it.
We all make choices in life. And, well…I guess I choose to be busy. I could say no more. I don't have to spend quite so much time with my family. Sure, I might be able to cut down the amount of time I spend driving in the car if my kids didn't play so many sports. I guess I don't have to go to EVERY game.

But I choose to do all these things.

My "me time" is usually spent with the people that mean the most to me.
I also need to write an update on our Summer Challenge. And while we haven't been perfect at it, we've also had some successes at just being better about eating at home. Sometimes it means thinking outside the box. And sometimes it's all about NOT TAKING THE EASY WAY OUT. One of the best parts of the challenge is coming up with things to make that I wouldn't have ever thought of before. And realizing that I'm a better cook than I give myself credit.
Ramona is getting better and better at sixth grade. And so are her parents. We went to Back to School Night yesterday and feel even better about all the awesome at her new school. She has amazing teachers, the school offers so much to her education…and it's just feeling so much better than before. She even has someone to sit with at lunch sometimes. Which makes my mommy heart feel a little better.
Beezus starts her junior year tomorrow. I've taken to Facebook to apologize for being THAT mom. The mom that is a complete b00b about her kids growing up and OMG could I please knock that off? But, yeah…a junior in high school. Happening tomorrow. This is weird, you guys.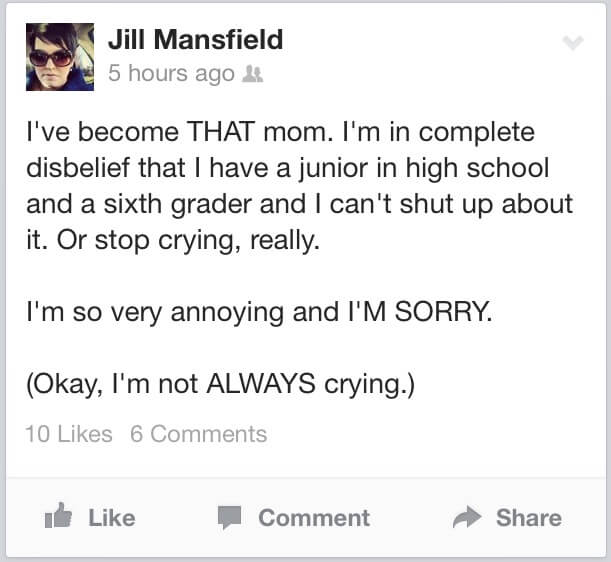 And if starting her junior year wasn't enough to ruin me, she also turns 16 this weekend. So, you know, I'll be getting ready for the big event…and sobbing quietly in a corner.
But because I can't leave you with the sound of me crying (thank goodness this blog doesn't have sound) there has to be something fun. Back a million years ago…before blogs were really even a thing, Sarah used to post her current song on repeat. And this isn't a hip, new song that everyone should know about…it's the amazing George Harrison. And the song and I just got reacquainted. And it's on repeat. My only explanation is that it makes me happy and I love singing along at the top of my voice. (Again, we're grateful that there's no sound here.)
Thanks for the happy, George.