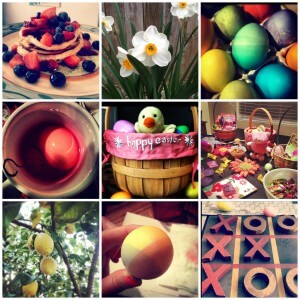 I'd be lying if I said that I feel completely relaxed after this Easter weekend. In fact, I think I am more tired than when I started it.
But there was so much goodness and awesome, I'm actually having a hard time writing it all down.
Family
So much time spent with family. I enjoyed every second of it. Saturday afternoon BBQ to welcome visiting family. Easter brunches that last all day. It was pretty fantastic to spend so much time with everyone. And it was good to see the kids having such a great time!
Friends
One of the best things about living next door to one of your best friends is being invited to their epic Easter egg hunt Sunday morning. Even the adults get to participate! We weren't able to stay very long, but we had a blast with all of some of our favorite people!
Coolest Easter Weather Ever
Thunder…lightening…giant rain drops…sunshine and warmth? This weekend's weather had it all. It's been a long time since I enjoyed weather so much. (What a nerd.)
Lazy Saturday Morning
It's not very often that we have the luxury of taking our time on Saturday mornings. So of course that means bacon and pancakes. And the most delicious berry and lemon topping, if I do say so myself. We took turns playing tic-tac-toe as we ate and just enjoyed the laziness for a bit.
Easter Basket Stuffs
A little before Christmas we became a household where everyone now knows that Santa, Tooth Fairy and the Easter Bunny are all part of the mom and dad gig. I felt a tiny bit sad over it during Christmas, but we were all so excited about the puppy. However, as The Dude and I shopped for Easter, I missed buying stuff for the littles. It was a bit weird, really, when you realize you've passed that part of parenting. Filling Easter baskets will still fun. Just…different.
I have a lot coming up this week, and starting it off so tired is probably super ridiculous. But you know what? How can you regret so much awesome all crammed into one weekend? You really, really can't. I loved every second…and I hope you all had a wonderful weekend as well!