I knew going into this weekend that I would probably make an ass of myself somehow. Just getting through a normal day without inflicting harm upon myself is a huge accomplishment. Signing on to play a charity softball game? Well, that's just asking for trouble.
AND YET.
Yesterday, my daughter's competitive softball team participated in a Play for Pink charity softball tournament that benefited a local chapter of breast cancer awareness and research. However, instead of the girls playing, it was the parents. And the girls were our coaches. It was a wonderful idea! Clever and fun!
I was just as surprised as anyone when I agreed to this. My lack of athletic ability isn't what any of us would call a secret. It's amazing that I've made it through training and participating for several running events without falling or breaking anything. ::knocks on wood:: But I would be lying if I said that I wasn't terrified of getting injured. In fact, in the days leading up to the tournament, I had pretty well freaked myself out about the possibility of getting pegged in the head with a softball. No helmets + amateur, out of shape parents = ME GETTING PEGGED IN THE HEAD WITH A SOFTBALL.
I mean…it's basic math. Right there.
Despite all the warning signs and math problems, we packed the ice chest and BBQ, laced up our tennies and headed out to the softball field yesterday morning. We played catch, warming up…for whatever it was worth. Yes, it's good to warm up those muscles…and yes, it helped to get us going and moving and out there. But yeah…I wasn't sure how much it would actually help me play an actual game of softball.
Which brings me to my second fear: STRIKING OUT.
I was somewhat expecting to strike out whenever I was up to bat. I can hit the ball ok during family softball practices…but I was pretty worried about softball stage fright when it came time for me to be up to bat in an actual game with people who don't love me like my family does. I guess I just didn't want to embarrass my kid. Or…myself.
*womp* *womp*
I switched off playing outfield in the first game. (Yes, the first game. Because I soon learned that there would be THREE.) And a little ways through the game, it was my turn to be up at bat.
Now what I'm going to tell you, is that I'm a very impatient batter. I just want to GET IT DONE. So I swung at the first pitch like I had been doing this all my life. And, not only did I make contact, but I hit it somewhere near the shortstop. I HAVE NO IDEA WHAT HAPPENED AFTER THAT…because I was RUNNIN. And I made it to first. Not only had I actually hit the ball, but I was safe! And yes! It probably had everything to do with an error in fielding, but shut up. I made it to first…and dammit let me celebrate because all my excitement is about to come crashing down.
Literally.
I can't even tell you who was up to bat after me, but they hit the ball right near the second baseman. Force and all that, I was out. But I didn't even have time to be bummed, because that sonofabitch playing second was trying for a double-play at first base. And HOLY SHIT I WAS IN HIS WAY OMG MY WORST FEAR IS ABOUT TO HAPPEN I'M ABOUT TO GET BEANED IN THE HEAD.
So I ducked.
And then I ate dirt.
Because Momentum, being the bitch that she is, well…she took me right down to the ground. Ducking so that I wouldn't get hit in the head meant I would hit dirt. Knees scraped, hands raw…sunglasses down HITTING DIRT. For a split second, I do believe I contemplated staying there. BECAUSE WHY NOT.
But I didn't.
I had some dusting off to do, and some filthy sunglasses to retrieve, as I made the walk of shame from between first and second bases to our dugout. Small blessings as they are, I was the third out, so many of our parents were headed out to take the field. I had a minute to pretend that I wasn't embarrassed as that transition created a distraction for all of us. I searched for my mitt so that I could head to the outfield.
Except for that's not what happened. Because I got benched by my own kid.
Being one of the captains of her team, Beezus helped lead the team that called the shots of batting lineups and positions played. And apparently my epic display of athleticism wowed her to the point of benching me.
Insult? Yeah, let's add you to my injury.
But hey, since I've got all this free time on the bench, I might as well laugh with one of the other moms and then Instagram a picture of my battle wound. BECAUSE THAT'S WHAT YOU DO WHEN YOUR FIRST RULE OF THE DAY TO NOT GET HURT GOES RIGHT OUT THE WINDOW AND YOUR KID TOTALLY BENCHES YOU BECAUSE YOU'RE A KLUTZ.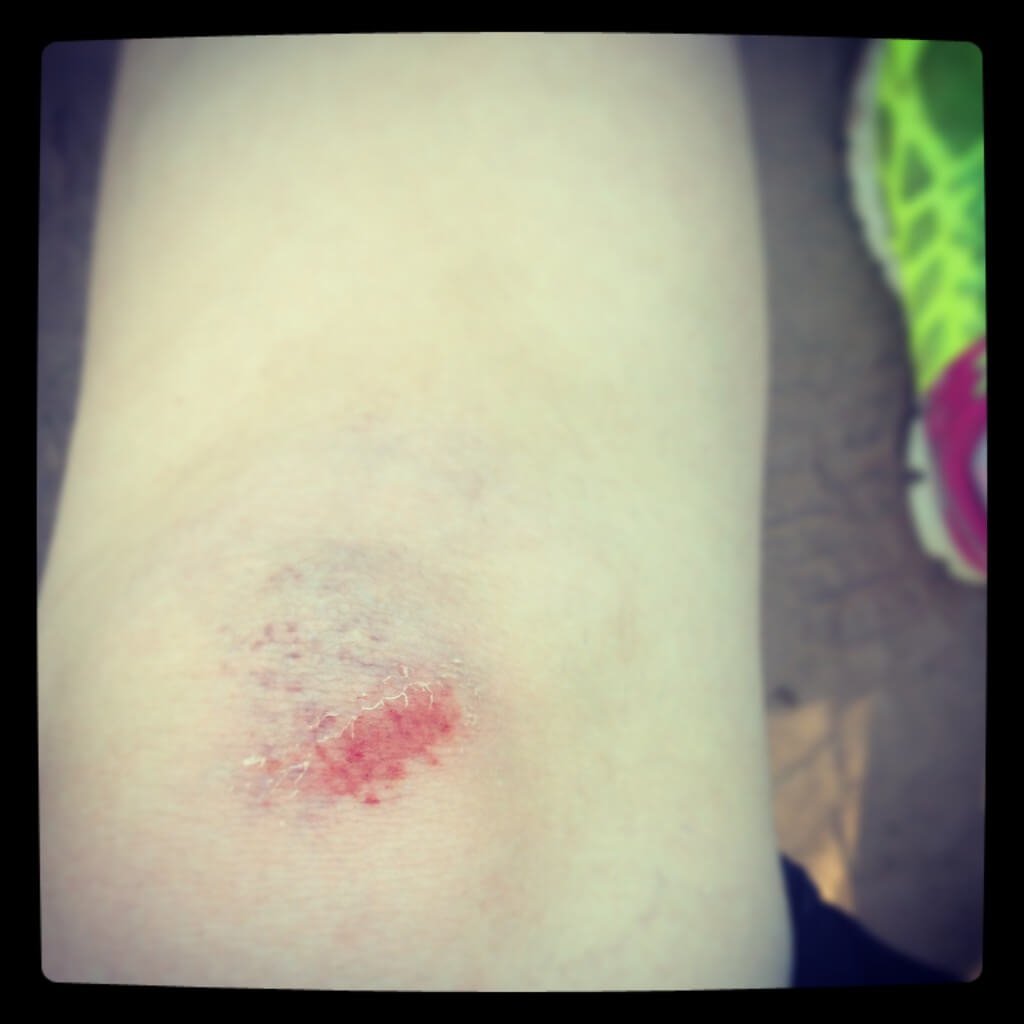 Laughing about it all the way home, as The Dude and I also lamented at how sore we both are, I stop and read the comments on a picture I posted on Facebook.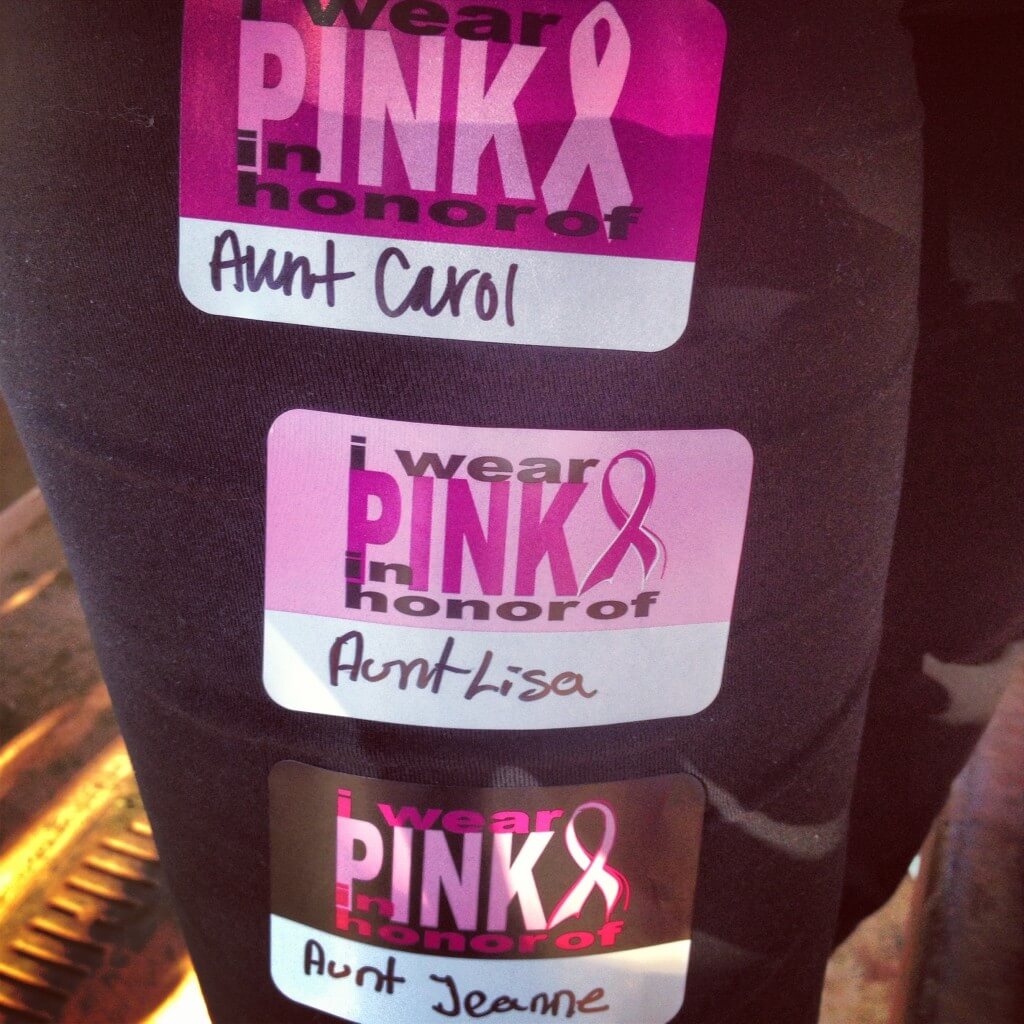 I tear up as my aunt tells me how special it is that she's one of the people we played for. And I'm reminded why I wanted to play in the first place. Because if these amazing women in my life (and people all over the world) can fight to kick cancer's ass, I can totally make an ASS of myself out on a softball field for them…and for a really wonderful cause.
Do I hurt like hell today? Yes. All the things hurt, especially my knee.
But a great day, with great and wonderful people for an amazing cause makes it all worth it.
Although, amazing people and excellent cause aside for a minute, I have to tell you…I didn't strike out. Not even once. Like, hit that ball better than I ever thought I would. Even impressed my family!
Yeah, sure…I also embarrassed them with my graceful face-plant in the dirt. But let's let me have my moment.
However brief it may be.