I've had writer's block for almost two weeks. I can't decide if it's because I don't know what to say, or I don't know how to say what I want. I have things that I want to talk about…to write about…to hash out and try and make sense of things that don't always make sense. I want to start conversations and get the ball rolling. I want to be creative and wake up that side of my brain that seems to be sleeping away the rest of 2013.
We had a wonderful Christmas. We enjoyed spending time with family. We surprised the hell out of my mother in-law on Christmas Eve with visiting family from Mexico. I still get verklepmt when I think about how excited she was (and still is.) My sister came to town a few days ago, so we've been spending time with her and her family, too. We've gone to a hockey game, we've gone to Apple Hill…we've tried new things around town that we've never tried before. I've spent time with friends. I've enjoyed my family.
So maybe it's not that I have true writer's block. Maybe my energy has just been spent on being present and enjoying my loved ones.
Maybe sometimes you just need to realize that you're where you need to be.
I've taken some time to think back on 2013. To say it's been a big and busy year is a tremendous understatement.
I started Life of Jill.
I chopped off all my hair. Because of course.
Sarah and I ran the Tinkerbell Half Marathon.
Ramona turned 11.
I was a cast member of Listen to Your Mother – Sacramento.
Beezus went to prom.
I went to a couple of amazing conferences.
Campfire Wednesday was the best thing to happen to summer.
We bought a house.
A Giants game where they lost, but we had a blast.
We met some amazing people and had some amazing experiences along the way.
Beezus turned 16.
Ramona started middle school.
My brother got married.
Paisley turned 1.
Cap City Moms became a (softly launched) reality.
Celebrated 16 years of marriage.
College Visits? Ooph.
I enjoyed the hell out of my family and friends.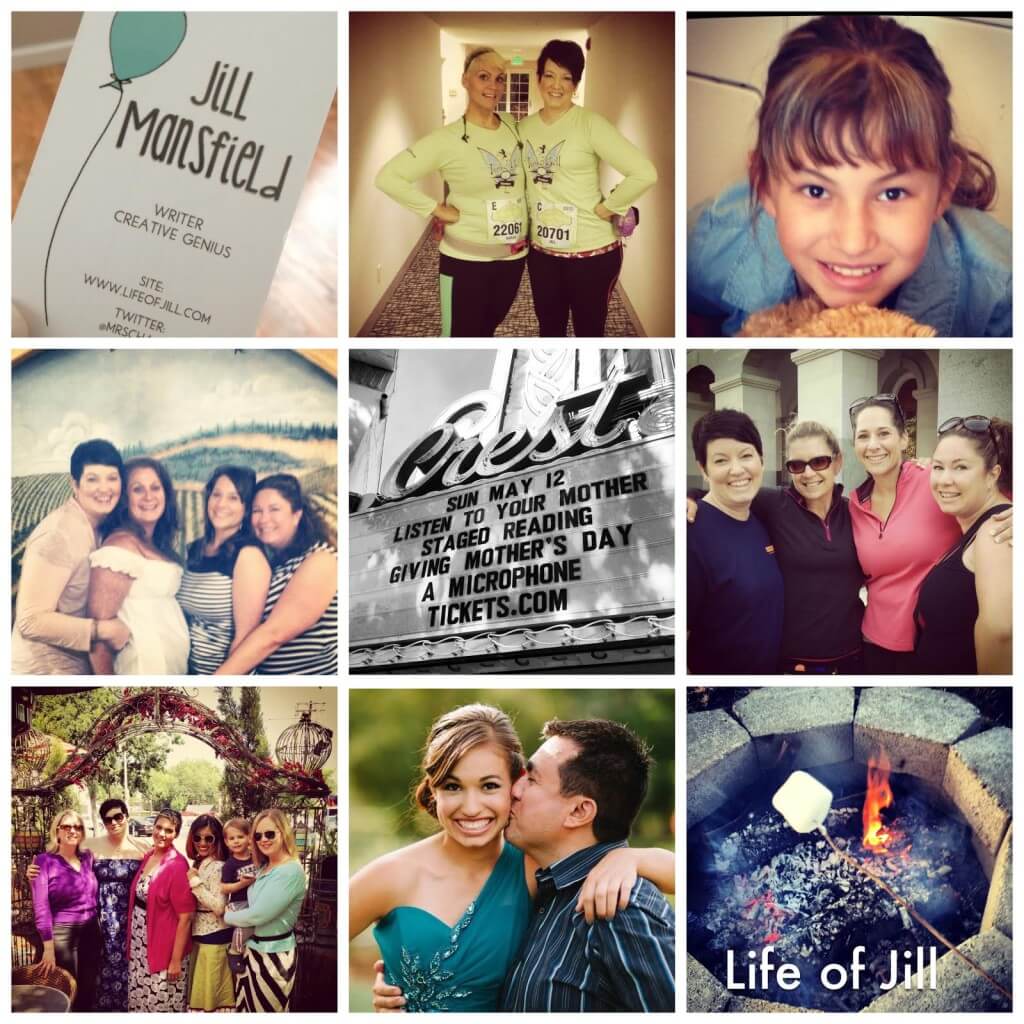 That's not even all of it. Not even a little bit!
Yeah, there were stressful and hard times and sad times mixed in. But when I think about 2013, there were some pretty badass things that I'll be celebrating tonight.
And maybe that's where I get stuck.
I focus so much on the past. I am celebrating a fantastic year coming to an end. I think about all the good that happened. I am thinking about all the fun that was had and all the love that was shared. But for some reason, I get stuck on how great things were, and I have difficulty looking ahead. I prepare myself for disappointment in 2014 because 2013 was so rad? That's a pretty piss-poor way to do things if you ask me.
AND YET.
I basically have about 15 hours to celebrate and enjoy the end of a very awesome 2013 and snap myself into realizing that 2014 could be even more. More fun. More family time. More awesome. IT COULD HAPPEN.
Instead of sitting here worrying about what could go wrong. I should focus on all that is so totally right.
Life is what happens when you're too busy making plans, right? Well, sometimes you can't even make plans because you're stuck looking back at the past and trying to walk into the new year backwards.
So yes…I have 15 hours to celebrate an awesome year. But I also have 15 hours to turn myself around and start walking face forward and get ready for what an amazing year 2014 will be.
Happy New Year, everyone.