♥I had a hard time writing this all out with all that is going on. But sharing with you how much I love my kid(s) seems like just the thing we need.♥
I think there is a part of me that is worried that if I actually write about her turning 11 on Sunday it will make it true. Which is probably the most ridiculous sentence you've read today, YOU'RE WELCOME.
If you have known me for even five seconds, you know that as proud as I try to be about raising two daughters in the craziest of lives, you know that the thought of them leaving for college and growing up is tremendously hard for me. I don't want to be the mom that can't let go…that can't let them live their own lives, so I struggle and war with myself. But I also need to let myself have these moments where I'm sad for the amount of time I was away from them when they were littles. The amount of time I'm still away from them. I'm proud of the life we are able to provide for our girls, but that doesn't take away the fact that I will never get that "little kid" time back.
So when your "baby" turns 11, you feel like you swallowed a brick. And you feel like time is an insensitive asshole who just won't leave you alone.
Over the weekend, in a conversation with some of my favorites, we were discussing my dear, sweet and VERY different daughters. I've said for years that Beezus is my old soul. You could see it in her eyes as soon as she was born. But my Ramona is different. And when the words "she is a new soul" came out of my mouth, I'm not sure I could have believed them more.
Ramona has spent the majority of her childhood trying to be like Beezus while struggling with the fact that she just can't. Not because she's not good enough or not special enough…but because she is aiming for something that isn't her. The square peg in a circle syndrome. But I worry about her. I don't ever want her to feel like she isn't enough. Because she is more than enough. She is the life of the party. She is the sweetness that makes me smile. The generous spirit that gives the best hugs. She is the kid with the big ideas.
She is amazing.
Several weeks ago, I learned about a website called "You Are My Wild" where a group of photographers document their kids being kids. Ever since then, the children's book/poem that inspired the title of that website has been on my mind. Because if there were a way to describe my Ramona, I do believe this is a start.
"You are my I love you"

I am your parent you are my child
I am your quiet place, you are my wild
I am your calm face, you are my giggle
I am your wait, you are my wiggle
I am your audience, you are my clown
I am your London Bridge, you are my falling down
I am your Carrot Sticks, you are my licorice
I am your dandelion, you are my first wish
I am your water wings, you are my deep
I am your open arms, you are my running leap
I am your way home, you are my new path
I am your dry towel, you are my wet bath
I am your dinner you are my chocolate cake
I am your bedtime, you are my wide awake
I am your finish line, you are my race
I am your praying hands, you are my saving grace
I am your favourite book, you are my new lines
I am your nightlight, you are my sunshine
I am your lullaby, you are my peek-a-boo
I am your kiss goodnight, you are my I love you

Author: Maryann K Cusimano
She is my wild. My beautiful, beautiful wild.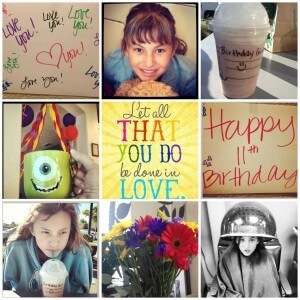 Happy birthday, baby girl.