Here's the thing. My family gets REALLY excited about yogurt. I'm not even lying and I kinda can't believe I just announced it like that, but that's an actual true thing about my family. I will buy a big carton of yogurt and it will be gone the next day. If I buy a bunch of the little containers? HEAVEN HELP US ALL. Because they just can't help themselves. So if you ask if you can send me some yogurt to try, I am bound by the law of my family to say yes. And I will do so gladly.
So then you tell me it's from Tillamook? I may be more excited than I should be.
(I just can't help it. I love Tillamook. Also, cheese.)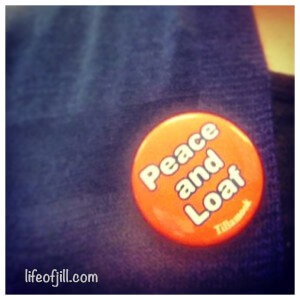 I'm a huge fan of Tillamook. In fact, when my sister visited the Tillamook factory last year, I was more jealous than I would originally admit. But remember when I mentioned the Golden Ticket giveaway? It's all part of celebrating National Burger Month (YUM) and their Loaf Love tour. Also, YOGURT.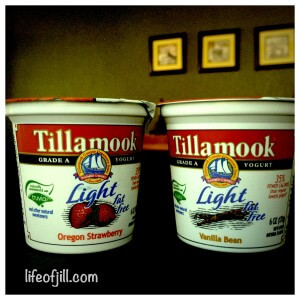 I'd like to say that *I* was able to taste the yogurt and tell you how dreamy it is, but my children took over that job. While I was at work. Thank goodness I snagged a couple of pictures of the goodies we were sent because CHILDREN. But I'm not mad. They loved it and they raved about it. And honestly, it was their opinion that mattered. They want me to buy more (shocker) and were thoroughly entertained by all the Tillamook goodies.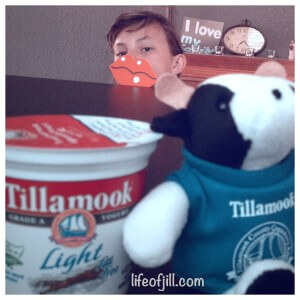 (Okay, maybe it was me that was thoroughly entertained by the goodies. Whatever.)
All I know is that I'm pretty sure that I will do my best to celebrate National Burger Month when my family gets together this weekend. With a proper loaf of cheese, of course. And yes, I will buy more yogurt for my kids and my husband. Not for the burgers, obviously…although, I wouldn't put it past them and their love of yogurt.
Tillamook provided the delicious yogurt and wonderful goodies. All opinions are my own.