I took the day off work to get things done around the house. When your weekends are spent elsewhere (softball tournaments, etc) and you work full time, tackling household projects is especially challenging. Even when we do have weekends off, we have to make a choice between doing something fun with the family or…chores. Our weekdays are usually so packed, a little downtime on the weekends is extremely necessary. So we tackle a little more than the bare minimum so we're not living in squalor and filth.
I promise we're not living in squalor and filth, but damn, I have a lot to do.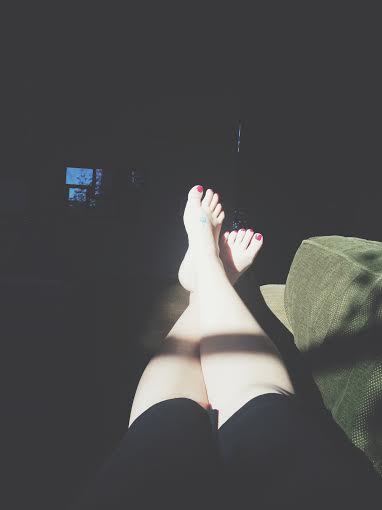 But this morning is quiet. The Dude had an early morning so I've been up for hours surfing Facebook and watching the Today Show. I've been drinking (too much) coffee. (See above: up early.) I'm sitting on the couch just giving myself a chance to enjoy not rushing off to the next thing and letting my kids sleep in upstairs. It's really, really nice.
But even just sitting here, I can't just sit here . I was reading. Or Facebooking. Or (now) blogging.
And actively avoiding housework. Whatever.
In a few minutes, I'll turn into the mean mom and wake up the kids. I'll enforce the chore lists. I'll hear "but I don't want to" or "I did it last time" arguments about why they shouldn't have to do a particular job. I'll have to convince myself to do a particular job, let's be honest. I'm also supposed to find time to do something with all of these apricots. (We'll see if that actually happens.) (It probably won't happen.) It will be such a busy day, it won't feel like a day off at all.
It never does.
I don't mean to sound like I'm complaining. I'm obviously terrible at just sitting still. I mean, I could've gone back to bed a couple of hours ago and I didn't. I could've sat quietly on the couch doing nothing and I didn't. Here I am not doing "nothing" again. I'm obviously part of the problem. Or the root of the entire problem. Something.
Either way, I don't have time to debate it. I have bedding to wash, floors to scrub, closets to clean out, grocery shopping to do, ceiling fans to dust and Gilda to blame for it. I'm swamped!