So when I headed to Target for some organizational tools, I'm not sure that I expected the dry-erase calendar to be such a big hit. As I mentioned, three of us share a family calendar on our iPhones and you would think that this would be sufficient. I mean, I had to consult the electronic version of the family calendar to fill out this new calendar. And even as I'm filling it out for the current month, I kinda wondered if I had lost my ever-loving mind. Why was I doing double work for myself? My husband was skeptical. My children were non-interested. Had I missed my mark?
But then I put it on the fridge. You know, the one area of the house that gets the most visibility. And?
My husband noticed that Beezus has the SAT's in two weeks.
Beezus noticed a couple of events The Dude and I have where she needs to be sure and be home on time.
Ramona noticed that I didn't forget about her upcoming events.
The girls saw when their dad was going to be out of town and how we would coordinate.
(I'd like to say that my husband will stop teasing me that he doesn't know when my brother's wedding is, but we'll applaud the progress that we've made.)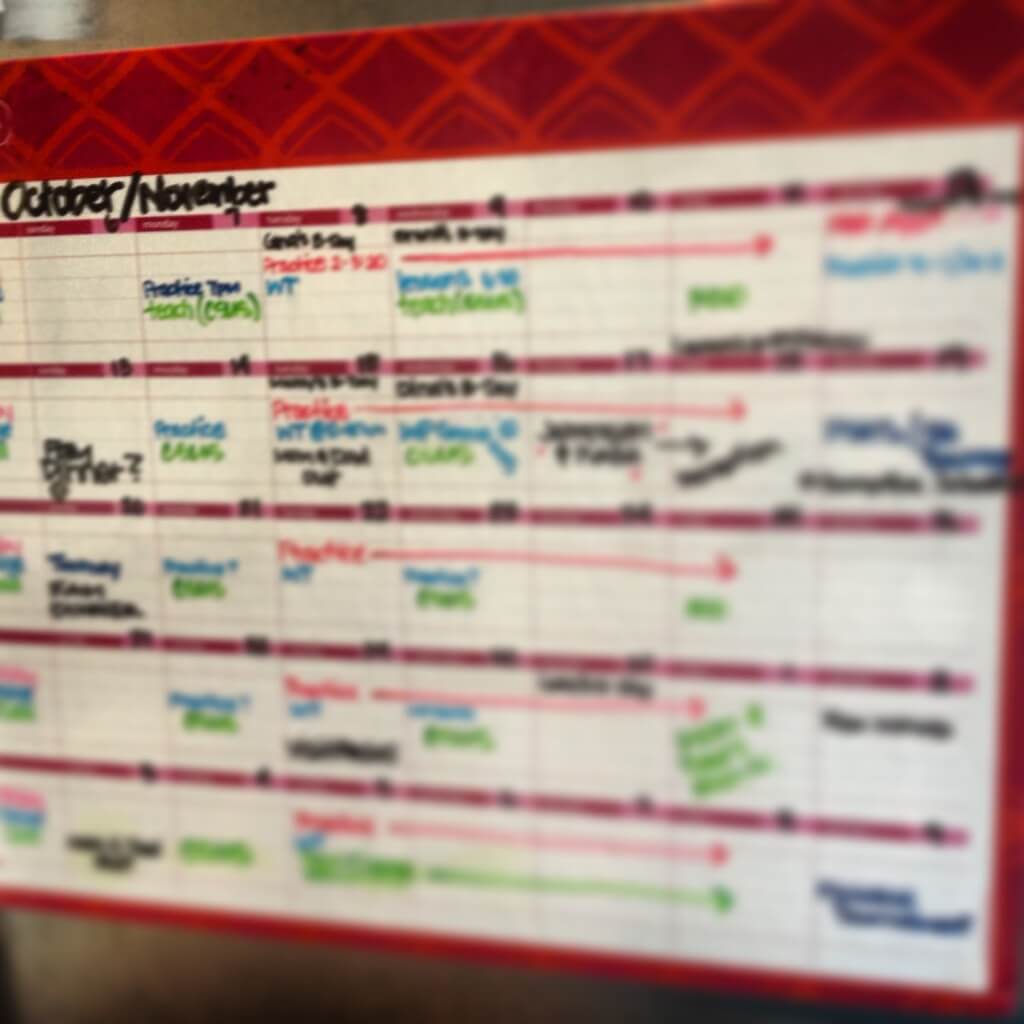 We are visual people. We have to see and see it again and again to keep it in the forefront of our very busy brains. The calendar on the iPhones are awesome and SUPER necessary, but we needed to have a global view of what's going on in our family. A constant, visual reminder of where we need to be, what's going on, and who it involves. It's color coded, so everyone has a better idea of how to coordinate busy schedules. We're not just assuming the other family members knows what's going on. We are all looking at this same calendar.
I'm not saying we've solved world hunger or cured cancer, but this is a big step for us.
And since I knew that I had to change the way I thought about things, I made some changes of my own. On the same day I bought the calendar, I also purchased a notebook cover that has a clip board on the front. Tease me if you want to, but this clip board makes me happy. I've created a to-do list that breaks out the different areas of my life and that is always on the top of the clip board. I also include a monthly calendar for reference, some paperwork of various tasks I need to tackle and some scheduling tools that I use for blogging and social media. On the inside cover, there's a pocket if I need to stuff something in there. And then, of course, the notebook/pad of paper for notes, etc.
I love it.
I'm not going to win any awards for my organization, but it works. Or at least it works for now until I need to adjust and make changes because my life adjusts and makes changes. We all know that my life is constantly moving and growing, so my organization has to be just as flexible as I need to be to keep up with my crazy family. But I love that, for right now, it works. And it works well.